Eric Cassar
Founder and Principal design architect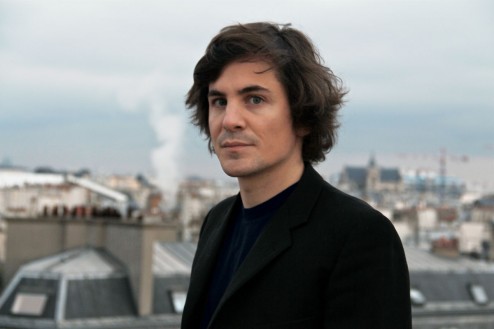 埃里克 ▪ 卡蕯 Eric Cassar is an architect (DPLG graduated from the EAPVS, Beaux Arts, Paris) and a construction engineer (graduated from the Ecole Spéciale des Travaux Publics, Paris). He is interested in art and literature for a long time. In engineering school, after two years of advancing maths class preparing for the Grandes Ecoles, he discovers architecture, a domain which combines art, technique and sociology.
After various professional experiences in building industry, he prepared his final project of architectural study on the Highway territory and especially on the motorway service area. His work is noticed, and leads to a research contract with the Total company in 2005. He decided then to create the architectural studio ARKHENSPACES.
In 2008, Claude Parent is seduced by his work (*).
In November 2010, he received the Pierre Cardin Prize from French « Academie des Beaux Arts » (**) which recognizes his overall work.
In 2013, he attended a lecture tour in Taiwan and was invited by the Kaohsiung fine art museum for the container art festival. He presented Interstice spaces : an heterotopia inside the city. He also finished The case for subtle ar(t)chitecture a critical essay that defines a foward-looking architectural approach based on nspaces concepts. It is published by HYX in 2016 (French/English bilingual edition).
In 2015, he was invited to speak about serendipity during a TEDx event. He presented his vision of tomorrows' smart-cities which combines fauna, flora, material and immaterial aesthetics.
In 2017, he received the Great European Prize of Innovation Le Monde-Smart Cities with Endless home a new concept of co-living in the digital era.
In 2018, his work was published in « Young visionaries – the new generation of architects » Ed Braun
---
<
The active Smart Building, 2019 – English with french subtitle
---
« Creating a city is giving life wings. »
<
Sensitive cities to/through subtle architectures – English, Arabic, Spanish subtitles
TEDx Talk « Serendipity », Lyon, France, january 2015
---
<
by Art Interview in January 2017
---
More vidéos and articles : here
---
(*) Letter from Claude Parent architect, april 13, 2008
« to Eric Cassar. Dear colleague,
I had a blow of heart
for the national library
of Czech Republic
Splendid.
And the prehistory museum
and also elegance and intelligence
of the bridge in Venice
without forgetting cascade gardens in Hong Kong … »
Claude Parent
---
(**) Académie des Beaux-Arts jury members
Roger Taillibert architect
Paul Andreu architect & engineer
Michel Folliasson architect
Yves Boiret architect & city planner
Claude Parent architect
Jacques Rougerie architect
Aymeric Zublena architect & city planner